Presenting Dia-Dalek, scourge of Time Lords everywhere! I've been a fan of Doctor Who since the very beginning - back in the William Hartnell days, so the image of a Dalek has always been buried deep in my subconscious. I even got a red Dalek outfit for Christmas when I was about six years old, and went out to exterminate the Thompson brothers from up the road. Sadly, my weaponry was inactive, and they drove me away with their ping-pong guns - curse you Thompson brothers! Apparently, my father and a couple of his friends emerged from the pub down the road after having their lunchtime Christmas pint, saw a red Dalek fighting two ping-pong firing galactipedes, and decided to return to the pub until their sanity returned...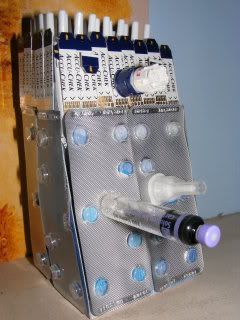 Dia-Dalek is therefore my crude tribute to these glorious creations - wonderful to see how prominently they are still are in the current storylines, despite numerous extinctions! Dia-Dalek is a diabotic - a creature constructed from the detritus of a diabetic life...as follows:
Materials:
1 x Novofine 6mm needle box
20 x AccuChek test strips
20 x needle tip protectors
1 x needle cap
1 x Lantus cartridge
1 x Multiclix lancet
6 x Candesarten blister packs
...with the rest of the gang...