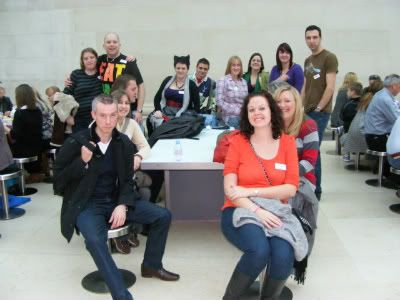 Today was the eagerly anticipated meeting of members of diabetes support forum. The plan was to meet up in the British Museum and then find a local watering hole capacious enough to accommodate a crowd of about 15 to 20 diabetics! Katie and I travelled into London together, and walked the mile or so to the British Museum from Waterloo railway station. Thankfully, the weather was clear and sunny, and the views across the Thames on either side of Waterloo Bridge were truly superb, although our initial steps across the bridge had been somewhat blighted by the concrete monstrosity of the Southbank Centre – how could an architect ever have thought that that was beautiful? Hideous!
We did get a little lost along the way, but not too far off our route, and managed to find the British Museum without too much drama, although I'm not sure I inspired much confidence in Katie! The arranged meeting place was by the souvenir shop on the west side of the Great Court. I have never been in there before, and was hugely impressed by the magnificent Court. As we were arriving a little later than the others, they had already moved on from the shop, so we wandered round the west side until we came across some tables at which many people were seated. Casting my eye over them, I recognised one of the forum members, Rossi, almost immediately so we made our way across and I introduced myself and Katie. How strange to meet all these people that I had been chatting to on the forum for months, and put faces to nicknames, and names to nicknames!
As it was approaching lunchtime, we decided to forego an exploration of the Museum, and instead set off in search of a pub for some food and drink. Our first choice, The Museum Tavern, proved unsuitable, as it was too small and many of the tables were already taken, so a quick search by Amy was made to find a nearby Wetherspoons – generally large establishments, with a good choice of food and beer at very reasonable prices. We settled on The Shakespeare's Head, admirably suited to our large party. Wetherspoons are also good pubs for diabetics, since they provide full nutritional data for their food, essential for the carb-counting insulin users amongst us!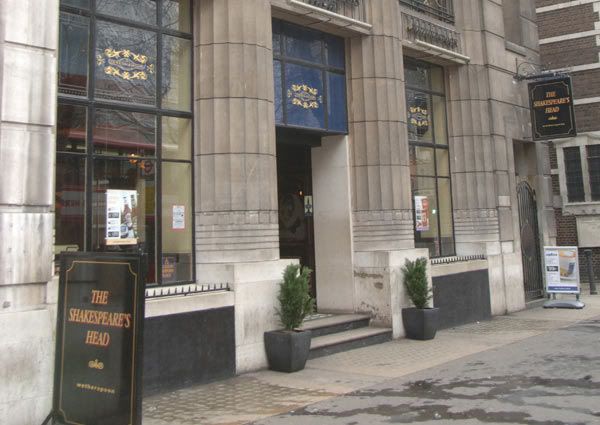 And the rest, as they say, is history! I won't go into all the conversations we had, as there were too many, but I do know that my voice was starting to go from all the talking as the afternoon drew on! A most enjoyable afternoon spent chatting and imbibing until the time came for Katie and I to leave. Very reluctantly I might add, but it was a condition of our tickets that we had to catch a certain train – which we managed to do by a very slim margin! All in all, a very enjoyable day, meeting some terrific people, and definitely an event to be repeated!
Bad diabetics eating profiteroles!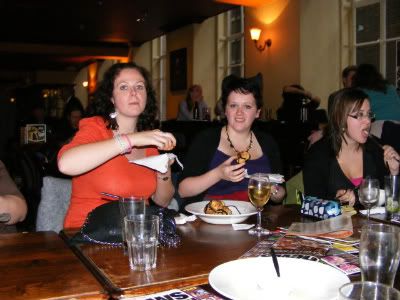 Such innocent looking souls!