I crawled reluctantly out of my nice warm bed this morning, after spending a fitful night snatching the odd hour of sleep in between listening to the torrents of rain lashing down and overflowing the guttering outside my bedroom window. I was determined to go for a run this morning, chiefly because the weather forecast was for even more dire and dreadful inundations over the coming days, with accompanying gale force winds. If there is one type of weather I hate to run in, it is driving rain whipped into a stinging frenzy by unpredictable and powerful winds.
So, I was quite relieved to see that there appeared to be a lull in the Storm God's diary which coincided nicely with my excursion round the local park. In fact, in some ways it was far more pleasant for running than in recent days, as the temperature was slightly higher, and the good cloud cover meant no blinding sunshine to blur my route. Even so, it was an effort to get myself out of the door. I went for a run a couple of days ago, and though they didn't feel too bad, my legs were still a little sore and achy from that run. But, what's a little ache in comparison to what some people have to endure?
My biggest motivator for some years has been to hold the image of Jane Tomlinson in my mind – no privation I might suffer would ever come close (I hope) to what she had to endure. Jane, for those who do not know of her, was an astonishingly tenacious, wonderful, brave, funny Yorkshirewoman who ran London Marathons, cycled across the USA, cycled from Leeds to Rome, and – in my view her most remarkable achievement – completing the full Ironman Triathlon. There are many tremendous and talented athletes who have achieved such feats, but she is the only person I know of who has achieved all this whilst undergoing treatment for terminal cancer. Jane had been in remission from an earlier diagnosis of breast cancer, when the cancer returned, this time inoperable and with a projected life expectancy of less than two years. She refused to let it defeat her, and began running, building up eventually to be able to run and cycle at a level that would surpass many of her peers, with or without cancer. She raised mllions for charity, raised a beautiful family and continued working until finally succumbing in September 2007 – seven years after her diagnosis.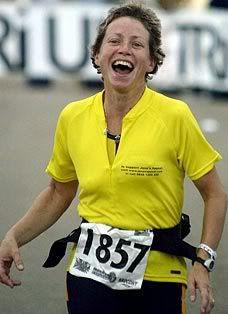 In the face of that kind of effort, how can I complain about my lot? She will forever be an inspiration for me and many, many others. If you get the chance to read the story of her life, please do, I guarantee you will moved and inspired.
The Luxury of Time
How Good is That?: The Story of a Reluctant Heroine
You Can't Take it with You
Friday November 13th, 2009
Distance
3.7 miles
Time
35' 31"
Calories
432
Blood glucose before (1.5 hour)
7.2
Blood glucose after
8.7