Diabetes is a serious condition, but we're not always gloomy and doom-laden! One of the most popular threads over the past year has been Diabetes Support's own virtual pub, the
Glucophage and Glargine
. Here all are welcome to order whatever carb-heavy meal they desire, and drink their fill on any tipple that takes their fancy with no effect on their blood glucose levels. Currently standing at over 35,000 views and 4,500 posts it supercedes the earlier 'one-liner' threads that proved so popular. Resident DJ Brightontez provides us with an eclectic mix of tunes from dusk till dawn from his (actual) jukebox! The pub will be refurbished when it reaches 10,000 posts…
A fine selection of jokes, from members Einstein and Diabetic Dave in particular, have swelled the Jokes section, formed when the number of jokes began to take over the 'Off the Subject' section. Some risqué, some silly, and the occasional one which didn't quite hit the mark, but humour can often be a very personal thing.
Katie's
'Post your pictures'
thread generated a lot of interest – so many people curious to find out what the faces behind the nicknames are really like! Currently running at nearly 4,000 views maybe it's time to revive it! The London and Southampton forum meets also included pictures which many people have seen and commented on. However, the forum Gallery section hasn't been as popular as might be expected – I think this may be due to some of the restrictions on adding pictures that many have found, making it difficult to use, and something that perhaps needs to be revised in 2010.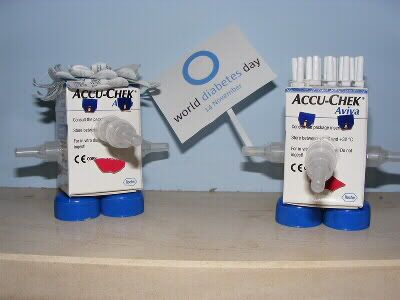 Diabotics Polly Urea and Gluco Jon pose as Jedward for World Diabetes Day
X-factor
has been hotly-debated, with many people appalled at Simon's decision to keep Jedward in, and disappointment from many that Olly Murs did not win (mostly from the lady members). A poor quality bunch all around this year, not up to the standards of Alexandra Burke and Leona (who's now so famous she only needs one name!).
Aymes led a concerted campaign to elect her little brother Barnaby as the 'Face of Kinder'. He didn't win, but did make it into the top 100 out of 4,500 contestants!
Diabotics
, creatures formed from the detritus of diabetes care – test strips, tubs, pill bottles, needle cases, insulin cartridges etc. have proved a hit and another welcome distraction from the downsides of diabetes. First introduced to us by Becca, they've provided many an hour of misspent time for some of us making them, and produced some very positive comments for our efforts. It's particularly nice when children have taken part and created their own – see Kei's daughter F's creation Diane Botic below!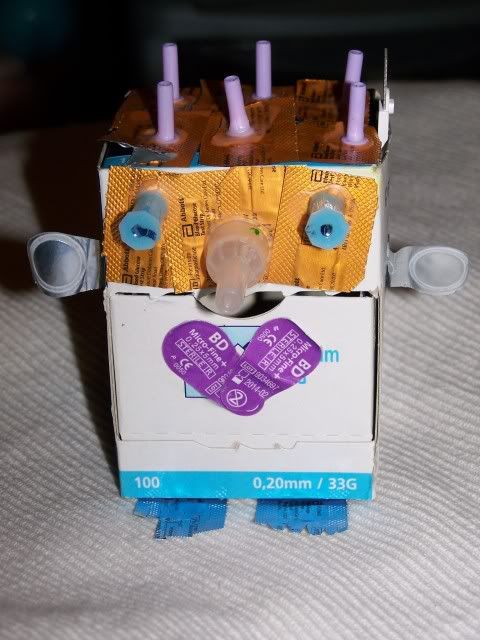 We've had a few weddings (not yet between members!), new babies (notably Kati Admin's little boy Zachary!), and some pregnancies, with lots of advice and support flying around on these subjects too. Some members have stayed and posted for a while, and then moved on. Some people pop in now and then to see what's going on, or to ask something new that's cropped up in their lives. We have posters who are very prolific, notably Steff – currently topping the list at around 8,500. I'm guessing she would have made 10,000 in the year if she'd joined in January! Some people have joined and never posted, or even come back after the first day, to our knowledge. Some join and read regularly – there's a real mix and hopefully however active or long or short a visit, we hope it is helpful. We've had a few researchers and students pop in and the occasional professional, but they don't seem to stay too long. And the odd spammer!

For some reason, there has also been a lot of discussion about the wonderful Kate Bush, lovely women with short haircuts, and a smattering of diabetes-related poetry…!
I've learned an awful lot in the past year and I believe I have made many new friends. Hopefully 2010 will continue the success of 2009!